Fire Management Consultant: Meet the Trainers and Instructors
Fire Management Consultant wouldn't be where it is today without the wide range of specialized and skilled professional instructors and staff. We have to meet our expectations of providing the highest quality, safest, most up to date training and our team provides those qualities we value most. Select a Team Member below to view their Bio.
Phillip Queen - CEO, Founder & Instructor
Steve Bitto - Dvision Chief - Ocean Surf Rescue
Dennis Childress, Fire Service Training - Instructor
Rodney Mendes, Fire Service Training - Instructor
Scott McKenney EMT-P, Fire Service Training - Instructor
Mark Romer, Fire Service Training - Instructor
Dennis Orbus, Fire Service Training - Instructor
Chuck Dickson, Fire Service Training - Instructor
Karen Takai, Fire Service Training - Instructor
Rusty Witwer, Fire Service Training - Instructor
Jim Bolton, Rescue Operations Training - Division Chief - Rescue
David Glaser, Rescue Operations Training - Instructor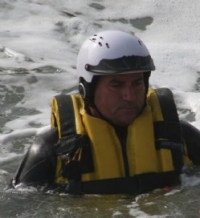 David Glaser has been employed with the City of Carpinteria for 14 yrs. and currently serves as a Beach Lifeguard Supervisor in charge of the Rookie Lifeguard Training Program. His commitment to Safety is exemplified by his 30 yrs. of service as a Professional Lifeguard on numerous Southern California Beaches along with providing ocean kayak instruction and tour guides.
David's extensive background includes serving as a Harbor Patrol Officer in Ventura, CA for 21 yrs. where he trained fellow Officers by developing and teaching Boat Maneuvering and Rescue Procedures, Marine Fire Fighting, and Personal Watercraft Operations. During such time, David conducted boating accident investigations and became a Qualified Expert Witness facilitating case resolution. David was a certified instructor for DBAW (Department of Boating & Waterways), and for POST where he taught Standards of Training to Officers throughout California. David previously served in the U.S. Coast Guard as a Rescue Boat Operator where he also engaged in high risk contraband detection patrols.
David's purpose is to enhance water rescue skills and techniques that will be used to save lives.
---
News & Announcements
There are currently no updated News & Events available.
Please check here periodically for Updates on the Latest News and future Upcoming Events.
View News & Announcements
Customer Comments
Bryan Hunt, Battalion City of Ceres
I would recommend anyone in the Fire Service to attend the classes that are sponsored by FMC!
Read more...
Carlos Aguilera-Fire Captain Cal Fire-Monterey Unit
On Monday, Ocotber 25th, 2010 we were dispatched toa Coastal Incident. Being part of the Rescue Boat Program Keith Bickford and Captain Carlos Aguilera launched the resceu baot fro Whalers Cove (Point Lobos State Park). A "big" wave had swept 2 wome
Read more...
Kings County Fire Department
S-290 Instructor was very knowledgeable and delivered the material very well
Read more...