Fire Management Consultant: Meet the Trainers and Instructors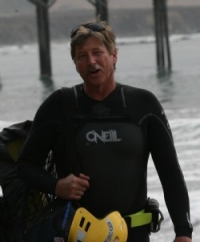 Steve started his Fire Service carrier as a Vol. Firefighter with San Luis Obispo County Fire Dept. in 1983, where he served for 7 years before being hired full time with Cambria Fire Dept. in 1990. During his 20 year carrier with Cambria Fire he has served as Training Officer, Fire Prevention Officer, and Fire Investigator. He received his California Fire Officer Certification and was promoted to Captain in 1995. Steve developed and implemented an Ocean Rescue Program for Cambria Fire Department, called North Coast Ocean Rescue (NCOR), in 1994 and the team is still going strong after 16 years. He also assisted with the development of the first ever SLO County Coastal Response Plan, and the SLO County Fire Investigation Strike Team.
Steve is currently a shift Captain with Cambria Fire Dept, a member of SLO County Coastal Response Team, and also the Team Coordinator for NCOR. He is an avid fisherman, surfer, and waterman, and donates his time assisting local surf rescue classes and Jr. Lifeguard Programs.
Steve is now the Division Chief of the newly created Water/Ocean Rescue Division of FMC.
---
News & Announcements
There are currently no updated News & Events available.
Please check here periodically for Updates on the Latest News and future Upcoming Events.
View News & Announcements
Customer Comments
Redding Fire Department
Instructor was clearly knowledgeable on the subject and I enjoyed his relay of past experience.
Read more...
Matt
The class was well put together. The instructor's ability to relate course work to real life was great!
Read more...
Michael
Instructor was very knowledgeable of the subject, had great experiences to share with class, cares about the subject presented.
Read more...